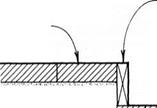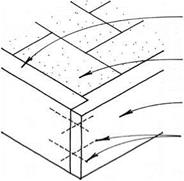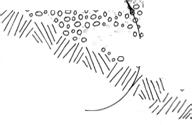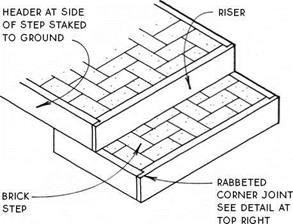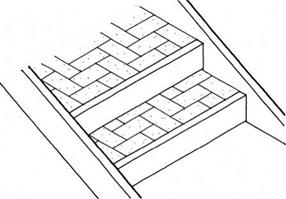 Dry-set concrete paver steps, like dry-set brick steps, are supported on a bed of compacted gravel on the ground and are laid dry without concrete or mortar. Because of their size, large pavers like the ones shown here are more stable than bricks. For this reason, paver stairs may be constructed without containment at the riser; some paver stairs are even constructed without
containment at the sides.
16-IN.
CONCRETE
PAVER
paver projects over riser about 1 IN.
-cl
Щщт
compacted rock base or self-compacting pea gravel
Most paver stairs are contained at the sides with walls or stringers, as shown below.
Concrete steps are durable and can be reasonably inexpensive, especially if they are built along with other concrete work. They should be adequately supported on a foundation and should be reinforced. Handrails or handrail supports may be cast into the steps or into the walks, porches, or terraces adjacent to them. The steps may be covered with a masonry or other veneer.
The main problem with concrete steps is that they are difficult to repair if anything should go wrong with them. The usual problem is settling due to the extreme weight of the steps themselves and to the fact that they are often constructed on fill. The safest way to avoid settling is to provide for the porch and steps a footing that is below the frost line, with a foundation wall above. This footing and foundation wall system may be an integral part of the foundation of the main structure (see the detail below), or it may be independent of the main structure with an expansion joint adjacent to the main structure that will allow the porch to move slightly without cracking (see 225A & B). Alternatively, concrete steps may be built independent of the main structure and adjacent to a wood porch (see 225C). All methods are expensive but will avoid costly maintenance in the long run.
For areas where building on backfill cannot be avoided, a wood porch with a lightweight wood stair that can be easily releveled is the most practical (see 222).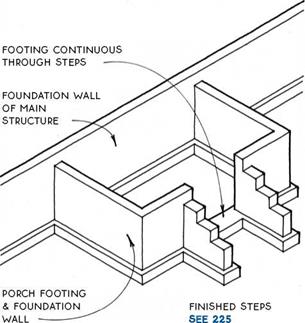 Paver stairs may also be contained at all edges like brick stairs with 2x risers and side headers (see 223).
NOTE
ELEMENTS OF THE DETAiLS ON THiS PAGE MAY BE COMBiNED iN VARiOUS WAYS TO MEET THE NEEDS OF SPECiFiC SiTUATiONS.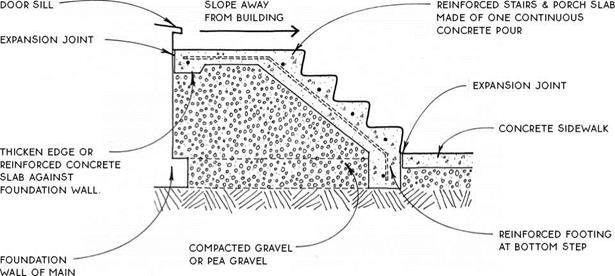 structure
ДЛ CONCRETE STEPS ON GRAVEL
-__ ' At Concrete Porch
REINFORcED concrete pORcH spans from step FOuNDATION
REiNFORcED concrete steps
STEM Wall
including
SiDES IF
required
NOTE
coordinate WOOD porch SKIRT WITH EDGE OF cONcRETE STAIR.
compacted gravel OR pea gravel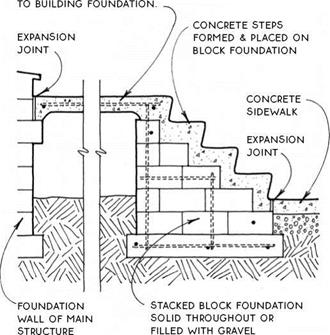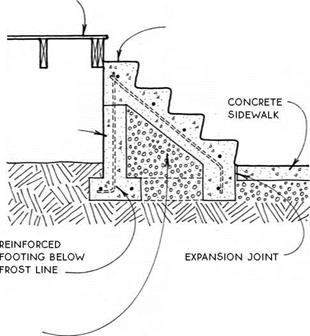 CONCRETE STEPS AT WOOD PORCH
CONTINUOUS STRUCTURAL FRAMING MEMBER

BLOCKING (NOT CONTINUOUS)
PLYWOOD OR OTHER STRUCTURAL PANEL
STUCCO OR GYPSUM WALL BOARD (G. W.B.)
MATERIAL BURIED IN ANOTHER MATERIAL.
E. G., REBAR IN CONCRETE
MASONRY-BRICK OR CONCRETE BLOCK