Site-built versus prefabricated stairs
Most stairs are site-built because it is economical and because the process provides a temporary stair for construction. But in some cases, stairs prefabricated in a shop are more practical. Prefabricated stairs (see 213C), whether simple or complex, can be made more solidly and precisely than site-built stairs because they are made in the controlled environment of a shop.
additional decisions
There are several other design decisions to make regarding both interior and exterior stairs. The primary decisions concern whether the risers are open (see 214A) or closed (see 216) and the design of the balus­trade (see 218-220) and the handrail (see 221).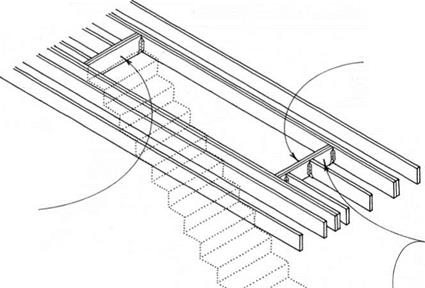 DOUBLE 2X HEADER AT TOP OF STAiR (DASHED); POSiTiON DETERMiNED ВУ METHOD OF CARRiAGE CONNECTiON SEE 212
NOTE
wiDTH Of ROuGH OpENiNG DEpENDs ON wiDTH OF sTAiR; FOR sTAiR wiDTH, sEE 207. cODE REQuIREMENTs FOR wiDTH ARE FOR
clear openings, so allow for thickness of wall finish when dimensioning a rough opening.
д STAIR ROUGH OPENING
HEADER AT END OF STAiR ROuGH opening SEE 211A & 212
Top OF carriage/
FLOOR
SEE 212A, В & c
FOR FREESpANNING STAiR FRAMING,
SEE 213A & B.
FOR cARRiAGE FRAMING
at open balustrade, SEE 219 carriage framing/ side wall SEE 212D
NOTE
Top OF BASE OF STAiR MAy TERMINATE AT A FLOOR LEvEL OR A LANDING. THE STAiR FRAMING cAN BE THE SAME IN EITHER cASE.
NOSiNG OF FiNiSH FLOOR SAME DEpTH AS NOSiNG ON STAiR TREADS

RiSE From FiNiSH TREAD TO FiNiSH FLOOR SHOuLD EQuAL TypicAL RiSE

BLOCKiNG BETWEEN CARRiAGES SUPPORTS SUBFLOOR.

NOSiNG OF FiNiSH FLOOR SAME DEpTH AS NOSiNG ON

RiSE FROM FiNiSH TREAD TO FiNiSH FLOOR SHOuLD

HEADER AT END OF STAiR ROUGH OPENiNG

NOTE

SiDE cARRiERS ARE SuppORTED cONTiNuOuSLy ON wALL FRAMiNG.

SEE 212D

LEDGER, BLOCKiNG, JOiST HANGERS ATTAcH EAcH STAiR cARRiAGE TO HEADER; SEE 211B For LEDGER.

cARRiAGES &

TO HEADER (AND/OR wALL)