TOP OF CARRIAGE/FLOOR
Hangerboard Supports Top of Stair
GypsuM wallboard
OR OTHER FiNiSH
wall
FiNiSH RiSER TRiMS TO STRiNGER.
FiNiSH TREAD TRiMS TO STRiNGER.
BLOcKING BEHiND wALL FiNiSH
2x spacer nailed to studs
carriage nailed to spacer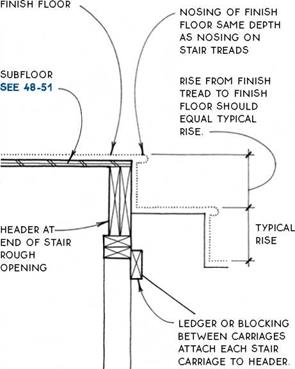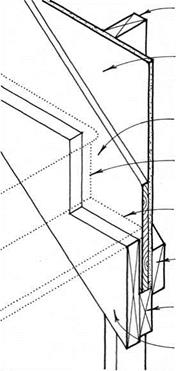 CARRIAGE FRAMING/SIDE WALL
HEADER AT END OF STAIR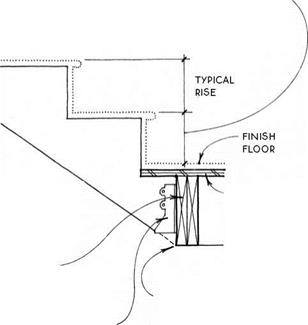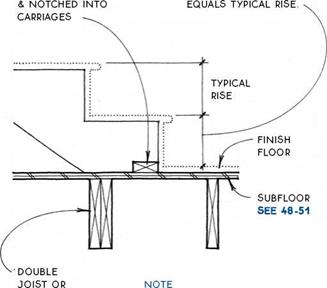 rough
OpENING FOR
multiple
FLIGHTS OF STAIRS
JOIST HANGER
supports central carriage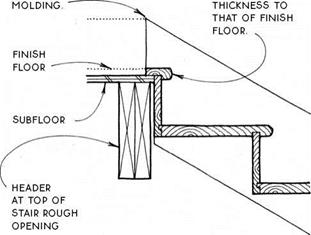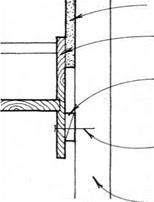 HOuSED STRINGER OF pREFABRicATED STAIR
5/8-IN. TO 1-IN.
shim accommodates thickness OF FINISH WALL
ATTAcH STRINGER WITH 16D NAILS THROuGH SHIMS INTO FRAMING
WALL FRAMING

Section at Top of Stair
WOODEN cLEATS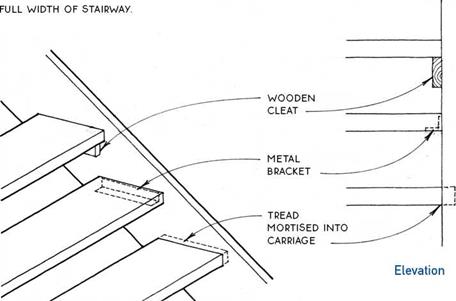 screwed TO Structural cARRIAGE;
OR
metal bracket let into
END Of TREAD SO THAT
bracket is concealed
FROM ABOvE (AND DOES NOT pROJEcT BELOW);
OR
MORTISED TREAD, WHicH
provides concealed connection FOR AppEARANcE; ScREW TREADS THROuGH
carriage or glue &
TOENAIL FROM underside INTO carriage.
Finish landings must be at least as deep as the stairway is wide (automatic in the case of an L-shaped stair). Set the landing height so that the finish-floor level corre­sponds to the rise of the stair.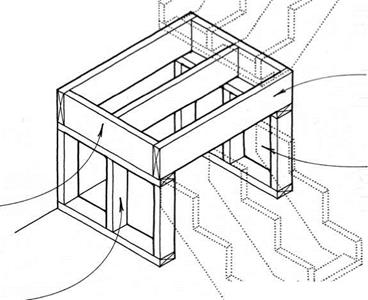 SUPPORT LANDiNG ON STUD WALLS.