Consider buying most of the safety equipment listed here.
Hearing protectors will prevent permanent ear damage and reduce fatigue while using power tools. There are a number of styles, from reusable foam plugs to earmuffs; properly fitted, they should reduce noise 15 decibels to 30 decibels (db). Look for models that meet American National Standards Institute (ANSI) S3.19-1974 specifications.
Eye protection is a must when you're using power tools or striking nails or chisels with a hammer. Safety glasses or goggles that meet ANSI Z87.1-1989 specs are strong enough to stop a chunk of metal, masonry, or wood without shattering the lens. (Most lenses are polycarbon­ate plastic.) Get eyewear that has vents to prevent fogging; you can also get combination safety glasses/sunglasses with UV 400 protection.
A hard hat won't protect you if you don't wear it, so find one that fits well. There are basically two types: Type I protects the top of your head,
whereas type II (ANSI Z89.1-1997) offers some additional protection if a blow to the head is somewhat off-center. Both are invaluable when you're handling objects overhead or someone is working above you.
Work gloves are essential when handling caustic, abrasive, or sharp materials. Some rubber-coated work gloves will let you work with concrete with­out suffering skin burns, yet are flexible enough to pick up a dime. Auto-supply stores carry latex – free nitrile plastic gloves that are cheap, durable, and quite flexible.
A respirator mask with changeable cartridges can prevent inhalation of toxic fumes, such as those from epoxy resins and paint solvents. Such respirators are discussed further in Chapter 19.
A disposable paper dust mask is okay when working around nontoxic materials like sawdust.
Knee pads with hard-plastic kneecaps and sub­stantial padding allow you to move around on your knees comfortably, and they protect your knees from construction debris and prolonged contact with hard floors. They should be com­fortable enough to wear all day.
A headlamp (battery-powered) is invaluable in tight, dark spaces where you should have both hands free.
A safety harness should be attached to solid framing when you are working on roofs with a 6/12 pitch or steeper, over open framing, or on any other high, unstable workplace.
A first-aid kit should be secured to a prominent place at the work site so you can find it quickly when you need it.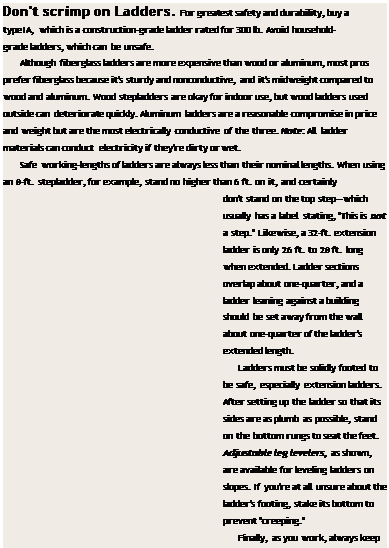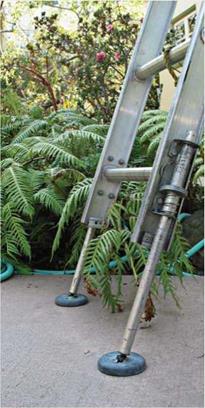 Cleanup tools. You'll need a household broom, a push broom, a dustpan, a heavy-duty rubber garbage can, a flat shovel for scooping debris, and a large-capacity (12-gal. to 16-gal.) wet/dry shop vacuum. You'll find Dumpster™ tips at the end of this chapter.
Tarps. Buy at least one 9-ft. by 12-ft. tarp and one 45-in. by 12-ft. runner. Get good-quality, heavy canvas duck. Paint will soak through cheap fabric tarps, and sheet plastic is too slippery to work on.
You may not need all of the following tools, but it's good to know what each can do.
A framing square with stair gauges is a basic layout tool for plumb and level cuts. It also enables you to set the rise and run for stairs as well as to make repetitive layouts such as for rafter ends.
Mason's string has many uses, whether to sup­port a line level or to temporarily tie things together.
An adjustable square is a smaller version of a framing square and is somewhat less versatile.
A stud-finder enables you to find studs you need to find or want to avoid.
A small combination square fits easily into a tool belt and enables quick and accurate 45° and 90° cuts on small pieces. It also doubles as a depth gauge for getting notches to a certain depth, setting door stops to jamb edges, estab­lishing "reveals," and so on.
An adjustable bevel gauge copies odd angles and transfers them to workpieces.
A try square is a precise tool that's more of a shop or bench tool, handy for making sure that a table-saw blade is perfectly square to the table.
A chalkline box contains chalked line that you snap between points to mark straight chalklines on sheet materials or layout lines for framing. The line itself can double as a stringline. And, in a pinch, the box and line can also serve as a plumb bob.
A folding rule with sliding insert is great for accurate, inside measurements like inner cabinet or window widths. Because the folding rule is rigid, it will hold the dimension you set. The slid­ing brass insert doubles as a depth gauge.
Tool-belt users can be divided into two groups: Walking hardware stores and minimalists. Whatever the load preference, pros who organize their belts so they can grab a tool without looking at it can outwork everybody because they get a rhythm down: hammer on one side, nails on the other; speed square on the left, pencil on the right; tape measure on the back of the belt—never a lost tool or a wasted motion. Before each job, they lay out the belt with just the tools they'll need.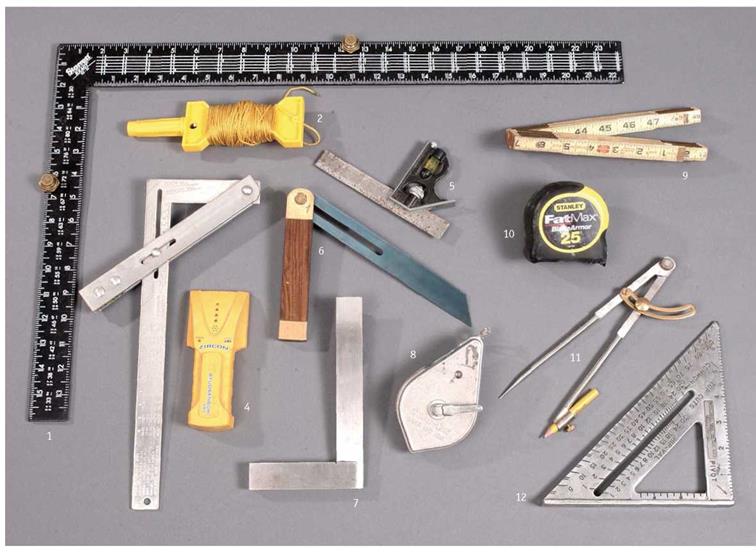 Measuring and layout tools: 1, framing square with stair gauges; 2, mason's string; 3, adjustable square; 4, stud-finder; 5, combination square; 6, adjustable bevel gauge; 7, try square; 8, chalkline box; 9, folding rule with sliding insert;
10, tape measure; 11, compass; 12, Swanson Speed™ Square.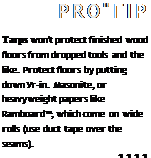 Tape measures are a must. A 16-ft. one will do for most jobs; but the wider tape of a 25-ft. model can span 7 ft. without collapsing, thereby allow­ing you to take an approximate reading across a span opening.
A compass draws circles or doubles as a scribe so you can fit flooring or sheet materials to the curved or irregular profile of a wall, cabinet, or baseboard.
A Swanson Speed™ Square enables quick 45° and 90° angle layouts. And with a little practice, you can set rafter pitches. Indestructible, this fits snugly in any tool pouch and is easily one of the most popular tools since the 1970s.