Cables provide a lot of information in the abbreviations stamped into their sheathing; for example, NM indicates nonmetallic sheathing, and UF (underground feeder) can be buried. The size and number of individual conductors inside a cable are also noted: 12/2 w/grd or 12-2 W/G, for example, indicates two insulated 12AWG wires plus a ground wire. Cable stamped 14/3 W/G has three 14AWG wires plus a ground wire. (The higher the number, the smaller the wire diameter.) The maximum voltage, as in 600V, may also be indicated.
Individual wires within cable have codes, too. T (thermoplastic) wire is intended for dry, indoor use, and W means "wet"; thus TW wire can be used in dry and wet locations. H stands for heat-resistant. N, for nylon jacketed, indi­cates a tough wire than can be drawn through conduit without being damaged.
Finally, make sure the cable is marked NM-B. Cable without the final "-B" has an old-style insu­lation that is not as heat resistant as NM-B cable.
Most house wiring is flexible cable, but you may find any—or all—of the wiring types described here. Inside cables or conduits are individual wires, or conductors, that vary in thickness according to the amperage of the current.
► Nonmetallic sheathed cable (NM or Romex) is by far the most common flexible cable. Covered with a flexible thermoplastic sheathing, Romex is easy to route, cut, and attach.
► Metal-clad cable (MC) is often specified where wiring is exposed. Note: Some codes still allow armored cable (AC), but that's increasingly rare.
► Conduit may be specified to protect exposed wiring; it is commonly thin-wall steel (EMT), aluminum, or PVC plastic. Metal conduit serves as its own ground. Apart from service entrances, conduit is seldom used in home wiring. When connected with weather – tight fittings and boxes, conduit can be installed outdoors.
► Knob-and-tube wiring (see the top photo on p. 15) is no longer installed, but there's still plenty of it in older houses. If its sheathing is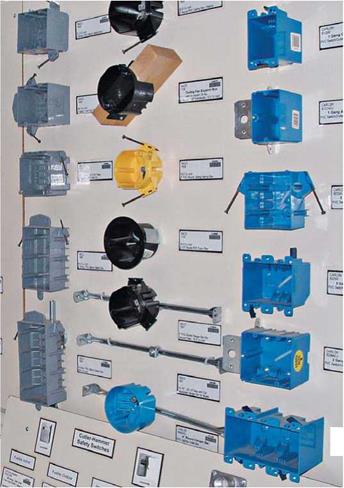 intact and not cracked, it may still be serviceable. You may even be able to extend it, but have an electrician do the work. Knob-and – tube is eccen­tric, requiring experience and a skilled hand.