How Much Hot Water Do You Need?
Most Americans use about 20 gal. of hot water a day, a standard industry benchmark. Most hot-water tanks are sized for a single day's consumption, so an average family of four, for example, might end up with an 80-gal. tank. Solar hot-water systems should
have no trouble delivering that kind of volume, but there aren't any safe generaliza­tions about whether it will be enough to satisfy household demands.
"The thing with hot water is that there are wide variations in demand," says Brad Collins, executive director of the American Solar Energy Society. "A 3,000-sq.-ft. house occupied by two elderly people will have substantially less demand than the exact same house next door that has five people, including two teenage girls. Their demand is tenfold what it is in the other house."
Other variables include the time of day when demand for hot water is high-
I Passive Thermosiphons Rely on Convection
Heated water to storage tank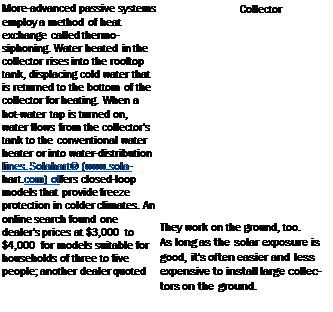 Hot
water to fixtu res 3d
Hot-water storage tank/water heater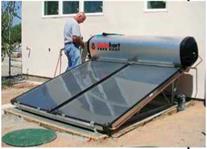 est, whether use comes all at once (morn­ing showers, for example) or is distributed throughout the day, the number of appli­ances in the house and when they are used, and the amount of solar potential the house has. "It's a different environment for each and every house," says Collins. "It's very much occupant-driven."
If there's such a thing as an average, the Arizona Solar Center estimates that a solar hot-water system should be able to deliver 100% of hot water in the summer and about 40% on a year-round basis. Performance var­ies by region. A household of four people would need 40 sq. ft. of collectors for an 80-gal. tank in Arizona, 55 sq. ft. in South Carolina, and 106 sq. ft. in Vermont.
How this translates into savings on gas or electric bills is also a wild card. Most solar hot-water systems are used to heat water before it goes into a conventional water heater, not as an outright replacement for a water heater fueled by gas or electricity. Careful consumers who are flexible about when they use hot water will see more solar benefit than a family that wants a lot of hot water all at once. Under the right circum­stances, virtually all of a household's hot – water needs can be met by a solar system.
But that's no guarantee.
"It's like buying a Toyota® Prius®," says Collins, likening an investment in solar hot water to owning one of Toyota's hybrid cars. "You change the way you drive because it's rewarding. You see how your involve­ment can impact your miles per gallon. In the same way, your involvement can im­pact how much energy you're going to be charged for, whether it's thermal or electrical energy. People become energy literate and smart energy consumers."