Green—and Unseen
When I show my clients a typical CFL— the type shaped like swirly soft ice cream— they immediately hate it. It doesn't matter if the light it produces has a beautiful color, if it operates quietly, or if it's dimmable. They just have a visceral, negative reac­tion because they can see that the source
of light is fluorescent. I've learned to apply a technique I call stealth lighting. Stealth lighting simply means hiding the bulb be­hind a diffusion material such as a shade, an architectural detail, or a lens. If they can't see that it's a fluorescent source, most people assume the light is incandescent and find it perfectly acceptable.
When selecting a decorative fixture—for example, a pendant light—find a bowl­shaped one that hides the bulbs; in the case of a drum-shaped fixture, look for one with a lensed (translucent) bottom. The CCFLs that are now on the market are available in shapes that are closer to traditional "A" lamps and flame-tipped bulbs that are eas­ily accepted as incandescent without any disguise.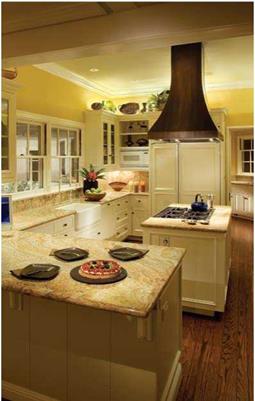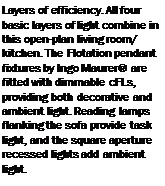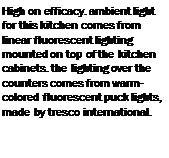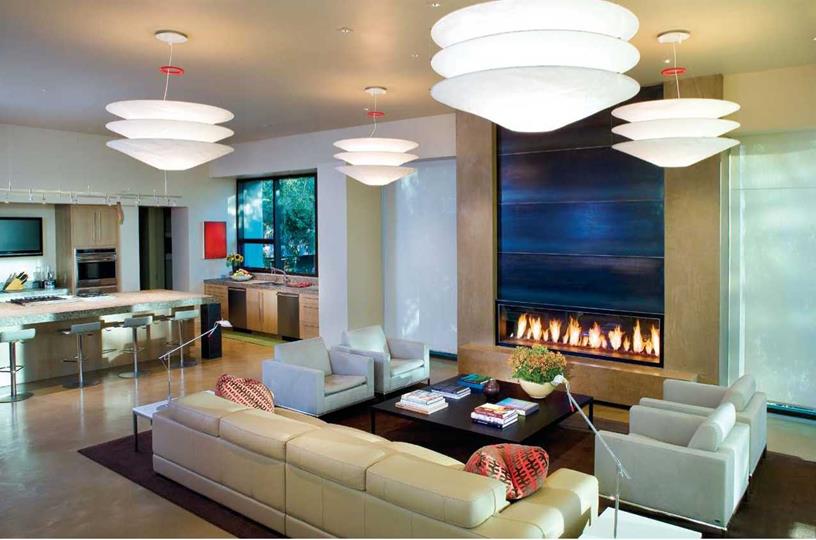 Another good way to create energy – efficient ambient light for a space is to in­stall the light source within an architectural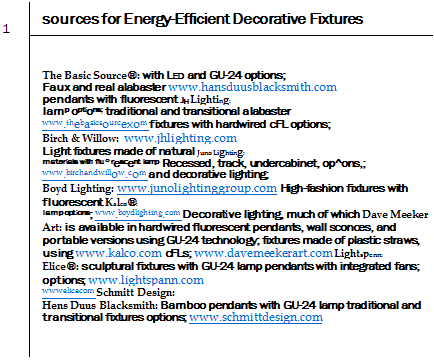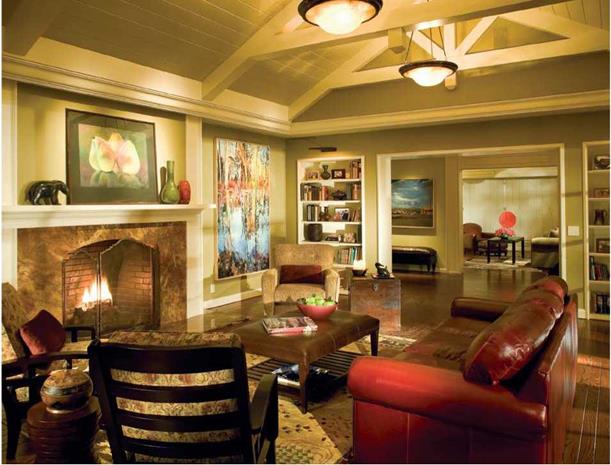 Stealth lighting. Energy-efficient light sources can be unobtrusive: The Lightspann pendant fix­tures in this living room conceal dimmable cFLs. Art and tabletops are lit by Juno® track fixtures using Led MR16s, and Led strips by edge lighting mounted on top of the trusses provide ambient light.
detail that runs the perimeter of the room or on top of cabinetry that does not go all the way to the ceiling. Here, a dimmable linear fluorescent source can do an excel­lent job, as well as some of the newer LED strip lights now available. In these cases, the light is bounced off the ceiling, so you want to make sure that the actual light source is completely hidden from view and that the paint on the ceiling is a flat or matte finish. A gloss, semigloss, or eggshell finish reflects an image of the light source onto the ceiling and ruins the effect.

Randall Whitehead is a San Francisco-based lighting designer.