Flooring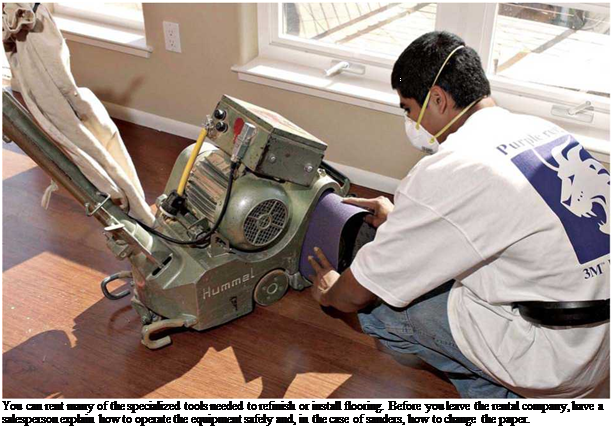 In the old days,
building material to be installed and the first to show its age, as it was crushed by footsteps, swollen by moisture, and abraded by dirt. Foot traffic is as heavy and gritty as ever, but today's crop of engineered flooring and floor finishes is far more durable—and varied.
However, flooring is only the top layer of a sys­tem that usually includes underlayment and sub­flooring, as well as structural members such as joists and girders. If finish floors are to be solid and long lasting, all parts of the flooring system must be sized and spaced correctly for the loads they will carry. Also, although some flooring mate­rials can withstand moisture better than others, all will degrade in time if installed in chronically
damp locations. In other words, correct under­lying problems before installing new flooring.
This chapter begins by introducing some of the more exciting flooring choices. Then it explains how to strip and refinish wood flooring and how to install wood flooring, resilient floor­ing, and carpeting. Tile floors are covered in Chapter 16.
These days, choosing flooring is almost as com­plicated as buying a car. The old standbys such as solid wood, tile, and linoleum have been joined by hundreds of ingenious hybrids, from snap – together laminates that mimic wood or tile to
bamboo planks to prefinished maple the color of plums. To make them tougher, floor finishes may include ceramics, aluminum oxides, or titanium.
Basically, you should try to choose flooring that's right for the room. Some factors to consider:
► Compatibility with the house's style or historical period
► Ease of installation
► Ease of cleaning and maintenance
► Scratch and water resistance
► Durability
► Comfort underfoot
► Sound absorption
► Anti-allergenic qualities
► "Green" practices for wood flooring, such as sustainable-forest harvesting
► Cost.
The revolution that produced engineered lumber has also transformed wood flooring. In addition to solid-wood strips and planks, there are lami­nated floorings, some of which can be sanded and refinished several times. There's also a wide range of prefinished flooring.
Solid-wood flooring is solid wood, top to bottom. The most common type is tongue-and-groove (T&G) strip flooring, typically 3з4 in. thick by 2J4 in. wide, although it's also available in h-in.-thick strips and widths that range from 1 h in. to 3J4 in. Hardwood plank flooring is most often installed as boards of varying widths (3 in. to 8 in.), random lengths, and 3з8 in. to M in. thickness. Parquet flooring comes in standard 18-in. by 6-in. by 6-in. squares, though some specialty patterns range up to 36-in. squares.
Because red and white oak look good and wear well, they account for roughly 90 percent of hardwood installations. Ash, maple, cherry, and walnut are also handsome and durable, if some­what more expensive than oak. In older homes, softwood strip-flooring is most often fir, and wide-plank floors are usually pine. If you know where to search, you can find virtually any wood—old or new—which is a boon if you're restoring an older home and want to maintain a certain look. On the Internet, you can find specialty mills, such as Carlisle Restoration Lumber™, that carry recycled wood that's often rare or extinct, such as chestnut salvaged from barns or pecky cypress pulled from lake beds. There's also new lumber made to look old, such as the hand-scraped cherry shown in the photo at right.
It's not surprising that wood flooring is a sen­timental favorite. It's beautifully figured, warm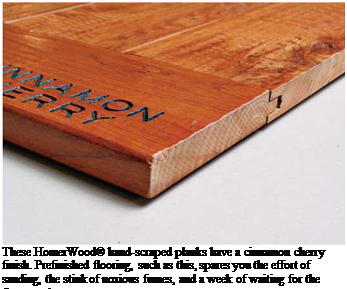 hued, easy to work, and durable. Disadvantages: Wood scratches, dents, stains, and expands and contracts as temperatures vary. And, when exposed to water for sustained periods, it swells, splits, and eventually rots. Thus wood flooring needs a fair amount of maintenance, especially in high-use areas. In general, solid wood is a poor choice for rooms that tend to be chronically damp or occasionally wet.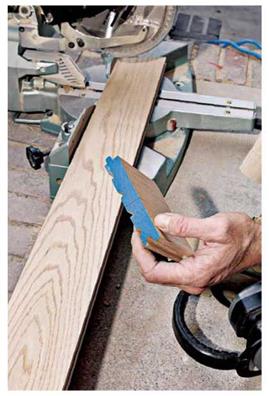 Here's a typical cross section of solid-wood tongue-and-groove strip flooring.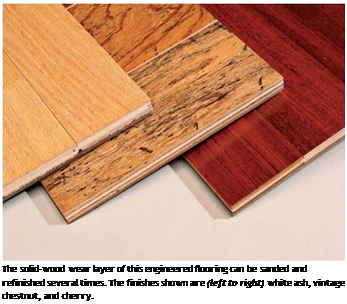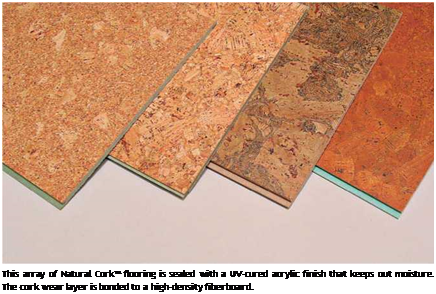 Prefinished wood flooring is stained and sealed with at least four coats at the factory, where it's possible to apply finishes so precisely—to all sides of the wood—that manufacturers routinely offer 15-year to 25-year warranties on select fin­ishes. Finishes are typically polyurethane, acrylic, or resin based, with additives that help flooring resist abrasion, moisture, UV rays, and so on. To its prefinished flooring, Lauzon® says it applies "a polymerized titanium coating [that is] solvent – free, VOC [volatile organic compound] and formaldehyde-free." Harris Tarkett® coats its wood floors with an aluminum oxide-enhanced urethane. Another big selling point: These floors can be used as soon they're installed. There's no need to sand them or wait days for noxious coat­ings to dry.
Tough as prefinished floors are, however, manufacturers have very specific requirements for installing and maintaining them, so read their warranties closely. In many cases, you must use proprietary cleaners or "refreshers" to clean the floors and preserve the finish. Also, board ends cut during installation must be sealed with a fin­ish compatible with that applied at the factory.
Engineered wood flooring is basically an upscale plywood, with a top layer of solid hard­wood laminated to a three – to five-layer plywood base. Most types are prefinished, with tongue – and-groove edges and ends. This flooring is typi­cally sold in boxes containing 20 sq. ft. of 212-in. or 354-in. widths, and assorted lengths.
Engineered wood flooring may be stapled to a plywood subfloor or glued to a concrete slab. Because it's more dimensionally stable than solid wood, engineered wood is better suited to occa­sionally damp areas such as kitchens or finished basement rooms. And acrylic-impregnated vari­eties are even more moisture resistant.
There are many price points and quality levels of engineered wood flooring, and you get what you pay for. Better-quality flooring has a thicker hardwood layer—Mirage® engineered wood flooring touts its 582-in. hardwood layer on a five – ply board whose total thickness is 58 in. In general, a hardwood layer that is dry sawn will have richer, more varied grain patterns than wood that is rotary peeled or sliced.
Disadvantages: The thin top layer of engi­neered wood flooring can be refinished only a time or two. Mirage maintains that its 532-in. top layer can be sanded three to five times, but that seems optimistic, given the condition of most rental sanding equipment.