HOW DOES A SEPTIC SYSTEM WORK?
How does a septic system work? A standard septic system works on a very simple principle. Sewage from a home enters the septic tank through the sewer. Where the sewer is connected to the septic tank, there is a baffle on the inside of the tank. This baffle is usually a sanitary tee. The sewer enters the center of the tee and drops down through the bottom of it. The top hub of the tee is left open.
The bottom of the tee is normally fitted with a short piece of pipe. The pipe drops out of the tee and extends into the tank liquids. This pipe should never extend lower than the outlet pipe at the other end of the septic tank. The inlet drop is usually no more than twelve inches long.
The outlet pipe for the tank also has a baffle, normally an elbow fitting. The drop from this baffle is frequently about sixteen inches in length.
When sewage enters a septic tank, the solids sink to the bottom of the tank and the liquids float within the confines of the container. As the tank col­lects waste, several processes begin to take place.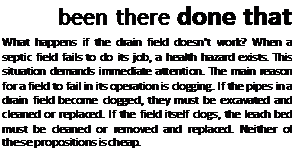 Septic tank maintenance is not a time consuming process. Most septic sys­tems require no attention for years at a time. However, when the scum and sludge layers combined have a depth of eighteen inches, the tank should be cleaned out.
Trucks equipped with suction hoses are normally used to clean septic tanks.
The contents removed from septic tanks can be infested with germs. The disease risk of exposure to sludge requires that the sludge be handled carefully and properly.