STORM WATER DRY SUMP
Portland, Oregon In North Meadow Village, developed
and built by Black Bull Enterprises in Portland, Oregon, the developer proposed changes deleting 630 feet of storm sewer pipe and adding an effective means of groundwater recharge.
A system of swales was designed to convey runoff into three on-site sumps where it could soak into the soil. Where storm sewer pipe was required, PVC was used in place of concrete pipe. The combination of savings from each change in the storm drainage system resulted in a savings of $6,350. ITus was equivalent to a per unit savings of $742.
Drainage for Cimarron, developed and built by Knoell Homes, Inc., was primarily above ground. Concrete valley gutters were used in some streets, and normal street curbs and gutters in other streets to direct stormwater to a channel and then to retention basins. The retention basins further created a visually attractive entrance to Cimarron. This drainage plan saved $70,578 over the original plan which required some underground drainage through an 18-inch concrete pipe, and a, pumping station to lift stormwater to an existing canal.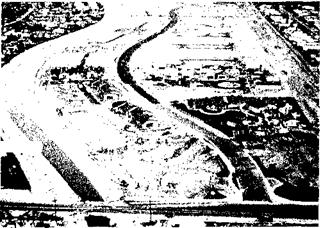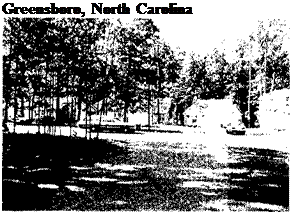 In Covington Place, builder/ developer Norcon Builders, Inc., eliminated typical Greensboro curbs and gutters. Ninety percent of the stormwater is absorbed by grassy swales along the sides of the streets and filters into natural areas on the site. This design saved approximately $200 per unit, and added to the attractive, woody, natural feeling of the subdivision.
Charlotte, North Carolina Stormwater in Lynton Place, John
Crosland Company builder and developer, is carried by grassy swales to a retention pond, with culverts used where necessary. This saved $16,390 compared to the curb, gutter, and piping system normally used in Charlotte.
The following demonstrations also used grassy swales instead of the typical locally accepted culverts for storm­water drainage: Oklahoma City, Oklahoma, and Knox County, Tennessee.