EXAMPLES FROM THE DEMONSTRATION PROJECTS
The accompanying illustrations show some site plans from demonstrations in the'Affordable Housing Program. The sites vary greatly in shape and in their physical characteristics.
However, each of the plans represents a creative relationship to the existing land. Densities vary from five units per acre for the least dense single – fam'ily detached homes to 17.4 units per acre for the most dense single­family attached homes.
Local land use restrictions, and the degree to which local officials were willing to waive or modify certain existing zoning or code restrictions as requested by the developer, varied with each site. However, in all the affordable housing demonstrations, public officials and developers worked together with a high degree of cooperation to achieve affordability.

The Cimarron development is situated on a narrow 38-acre plot of land which Rnoell Homes had originally laid out for 149 detached single-family units. After joining the. Demonstration Program, Rnoell redesigned the _ development to add 106 units, bringing the total to 255.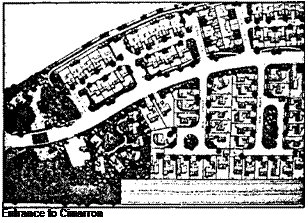 Average lot size was reduced from 6,000 to 3,600 square feet and density was increased to 6.7 units per acre. The housing mix consists of 107 townhouses and 148 single-family units, ranging in initial (January, 1983) sale prices from $45,000 to $63,000. Reductions in widths of streets, rights-of-way, and sidewalks, subjects which are discussed more fully in an ensuing section, added about five acres to the land available for housing over the original plan.
More than seven acres are devoted to open space which includes retention ponds set in attractive landscaping on either side of the development entrance, other landscaped areas, utility rights-of-way, a jogging course, and common land.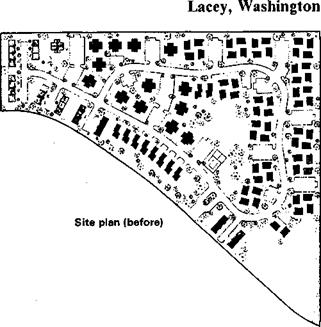 The original plan for The Park called for the construction of 153 detached and attached units on a 21.9-acre site of approximately triangular shape. This initial plan was both innovative and efficient in terms of land use. _ However, when Phillips Homes joined the Affordable Housing Program, the site was redesigned to increase the number of units to 176, increasing density from 7 to 8 units per acre.
Site plan (after)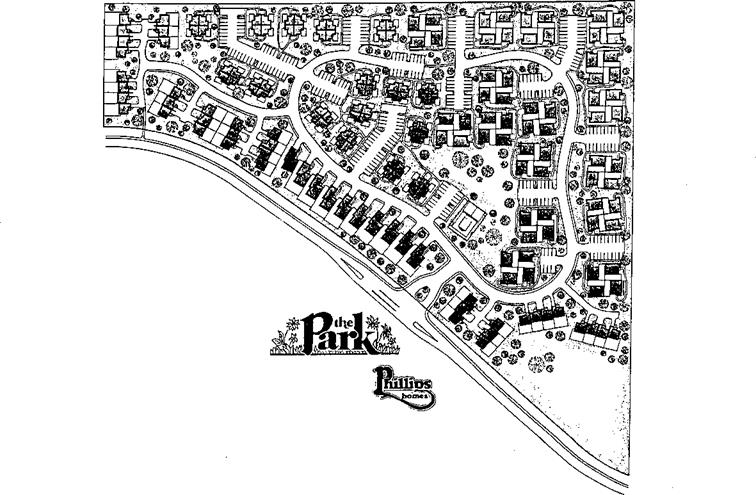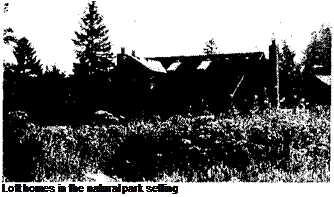 The housing mix consists of 64 "pinwheel" cottages, 10 zero-lot-line patio homes, 38 townhouses, and 64 quadplex units called "loft homes." Units range in size from 648 to 1,287 square feet. Many large trees were preserved, and a central clubhouse and swimming pool are located in a small park.
Lakewood Meadow, built by Triangle Development Company, is a 52-home project on a triangular 13.3-acre site. The project is part of a 263-acre planned residential community called Lakewood, situated in one of the most desirable residential areas in town.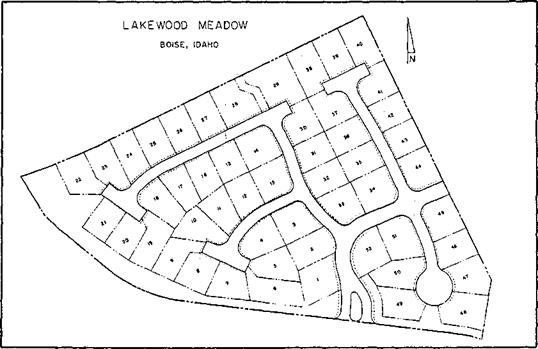 Lakewood Meadow demonstrates the feasibility of creating an affordable housing segment in a development whose other homes are more luxurious and expensive. The Affordable Housing segment incorporates such features as smaller lots, narrower streets, sidewalks on one side of the street only, T-turnarounds instead of cul-de-sacs, and roll curbs.
These features enabled the developer to add five building lots to the Lakewood Meadow segment while retaining amenities and architectural style that characterize the substan­tially more costly homes in the balance of the Lakewood development.
Lots in Lakewood Meadow are approximately 6,000 square feet, and homes range from 1,100 to 1,700 square feet in living area.
Sunridge is built on a 20.4-acre site of which about 6 acres along a stream were dedicated to the city for a stormwater detention system, and another 2.4 acres is consigned to commonly-owned space spread through­out the development. Eighty-one units were built on the remaining 12.2 acres, providing a density of 6.6 homes per acre.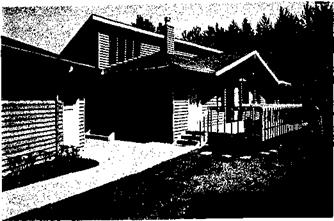 All of the homes have a southern exposure, and the house designs are oriented toward passive solar heating. All homes are zero-lot-line, and yards are fenced. Garages for all homes are sited at an angle to add interest to the streetscape.
Mature trees were preserved on the site wherever possible, and the development has been extensively landscaped. Three types of homes were built ranging from 1,076 to 1,624 feet in living area.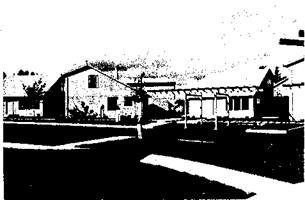 North Meadow Village occupies a triangular 6-acre site. Density is 9.7 units per acre. Homes in the develop­ment are arranged in pinwheel clusters.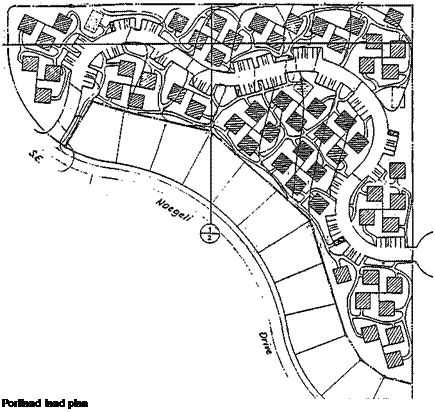 With the cooperation of municipal officials, the developer utilized reduced lot sizes, narrower streets and rights-of-way, smaller setbacks from the street, and common, covered off-street parking to make more land available for housing. Additional land was-freed for home construction through use of an innovative storm­water drainage system employing three on-site dry sumps.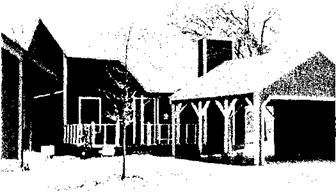 Innovare Park is constructed on a panhandle-shaped 7.98-acre site. The original site plan was for 34 detached units in a traditional grid pattern with straight-run streets. After joining the Affordable Housing Program, Hood Enterprises redesigned the site to accommodate 86 detached units.
The revised plan utilizes one collector street with short feeder streets ending in T-turnarounds. The smallest lots are 2,250 square feet, but most are 35×80 feet, or 2,800 square feet. Houses are placed close to the lot line with a minimum 5-foot clearance between units.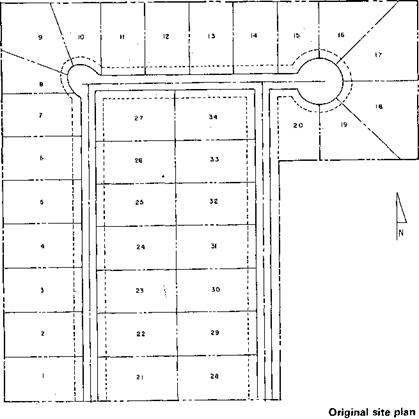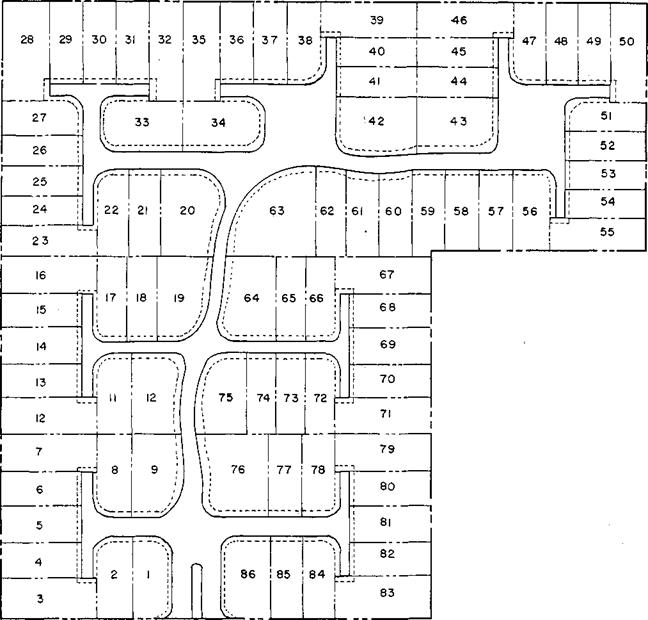 Revised site plan
Santa Fe, Fairway Village, built by Walton New Mexico Chapman Builders, is a 154-home project on 31 acres just outside the city limits in an area planned for future annexation. Homes are sited in a pinwheel arrangement rather than in traditional rows. Varying setbacks create interesting front yards and streetscapes.
The pinwheel siting creates a feeling of community and enhances outdoor privacy. A 1.5-acre park with recreational equipment provided by the builder completes the village.