EXAMPLES FROM THE DEMONSTRATION PROJECTS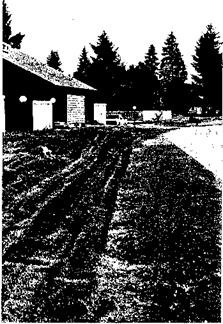 The Park, developed and built by John Phillips, realized savings through changes in the storm drainage standards. The typical Lacey street is constructed with catch basins every 250 feet. Underground concrete pipes convey water from basins to a location off site. In addition, manholes are required at a spacing not to exceed 250 feet.
Phillips proposed a number of changes to Lacey standards. He received permission to replace curbs and gutters with a grassy swale along one side of the street and sloped the road surface toward the swale, a deviation from the typical crowned street. One catch basin drained into a retention pond, and another part of the site drained into an existing ditch.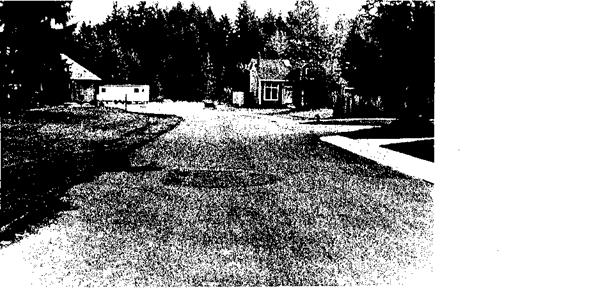 Demonstration

Comparison

Savinqs

Grading

$40,000

$ 40,000

$

-0-

Type I catch basin

475

5,700

5,225

Pipe and tubing

– 18" Concrete culvert

2,989

4,788

– 15" Concrete culvert

740

39,818

– 12" Concrete culvert

3,266

5,221

– Drainage tubing

3,477

-0-

SUBTOTAL

10,472

49,827

39,355

Manholes

-0-

12,600

12,600

6" Vertical curb and

gutter

-0-

39,816

39,816

6′ Valley gutters

-0-

2,736

2,736

Hip rap

1,320

2,640

1,320

Sales tax (7.8%)

4,077

12,996

8,919

TOTAL

$56,344

$166,315

$109,971

Cost Per Unit

$ 320*

$ 1,087**

$

767
*176 units **153 units
Cost savings attributed to changes in storm drainage standards at The Park are shown. Total savings of $767 were realized per unit.
Everett, Sunridge, a subdivision developed and Washington built by Rich Boyden, used existing
site conditions and alternate materials to improve cost effectiveness of the development. Normal procedure in Everett is to install CMP for the underground storm drainage system. It is also standard procedure to apply a per unit drainage fee of $432 to new residential construction.
In exchange for dedication of a 5.8 acre tract of land in the flood plain, the city agreed to waive the drainage fee at the site. Based on its success­ful use as sanitary sewer and water pipe, the city also permitted PVC to be installed in place of CMP storm pipe, resulting m a savings of $2,916. When added to the $432 per unit drainage fee, the total storm drainage system at Sunridge was installed at a savings of $27,108. This illustrates benefits of a reasonable compromise to both the community and the developer.
87