RAFTER DIES ON ROOF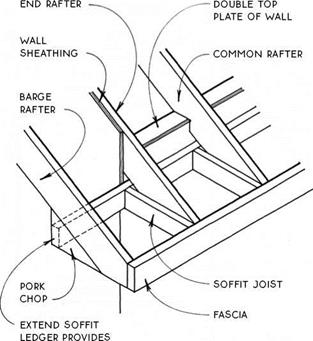 SUPPORT TO RAKE.
CUT ON FASCiA iS MADE AT PiTCH OF ROOF & ABOVE LEVEL OF ROOFING; FASciA IS SuppORTED ву RAFTERS &
sheathing.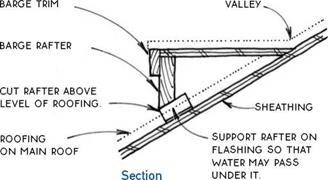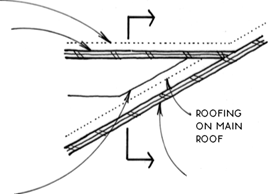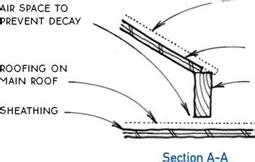 VERGE RAFTER OR TRiM BOARD CONTiNUOUS TO FASCiA
furring
continuous
behind
VERGE RAFTER SEE 150A
FURRiNG ALLOWS VERGE RAFTER OR TRiM BOARD TO ACT AS DRiP.
VERGE RAFTER OR TRiM BOARD
SiDiNG TRiMMED TO cONTiNuOuS FuRRiNG
fascia shown
MITERED TO VERGE; IT MAY ALSO BE
square-cut & covered WITH TRiM OR GuTTER.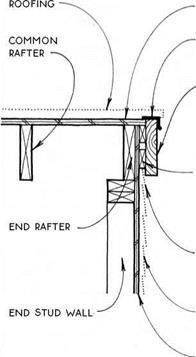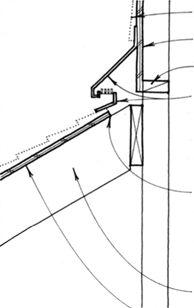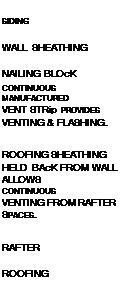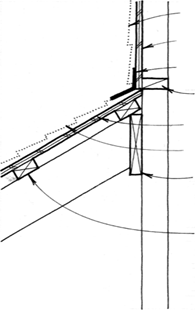 siding
WALL SHEATHING
flashing
NAILING BLOcK
ROOF SHEATHING
ROOFING
2X LEDGER NAILED TO STuDS
2X PuRLiNS
perpendicular TO rafters provide 1V2-IN. AIR space FOR LATERAL AIR MOVEMENT. provide INTAKE & exhaust vents. see 201

Shed Roof with Continuous Vent Strip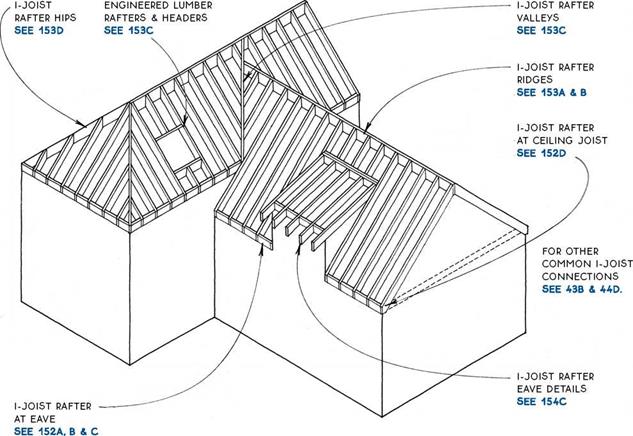 The strength, precision manufacturing, and long lengths that make engineered lumber appropriate for floor framing (see 43A) also indicate its use for roof framing. I-joists used as rafters constitute the bulk of engineered lumber used for roof framing; and they are stiffer, stronger, and lighter than their solid-sawn counterparts, but they also cost more, and their appear­ance is not generally satisfactory if exposed.
Despite the many advantages, engineered lumber as roof framing has not seen the explosive growth that has been the case with floor framing. Part of the reason is that roof framing with engineered lumber is hardware intensive. Virtually every connection must be made with a metal connector, and most also require the addition of two web stiffeners, one on each side of the I-joist rafters. This adds considerable time and labor cost to the task of roof framing.
Another difference between framing roofs with solid-sawn or engineered lumber is that engineered lumber almost always requires a structural ridge beam.
This means that roof loads must usually be carried down to the foundation through the core of the building.
The cost/benefit ratio for framing roofs with engi­neered lumber favors its use only for simple gable or shed roof forms. However, many builders have found ways to combine the advantages of both solid-sawn and engineered lumber on the same building. In these hybrid roofs, engineered lumber is used for the basic forms, and solid-sawn lumber is employed for the smaller-scale parts and the more complicated forms. This mixing of materials is practical for roof construc­tion where differential shrinkage is not usually a signifi­cant problem.
The general framing principles that apply to roof framing with solid-sawn lumber also hold true for engineered lumber. To perform as designed, however, engineered lumber roof components must be installed completely in accordance with the individual manufac­turer's instructions. The drawings in this section there­fore emphasize roof framing conditions that are specific to engineered lumber.

l-JQIST RAFTERS
WEB STIFFENER AT EACH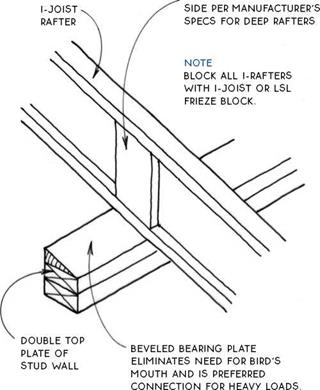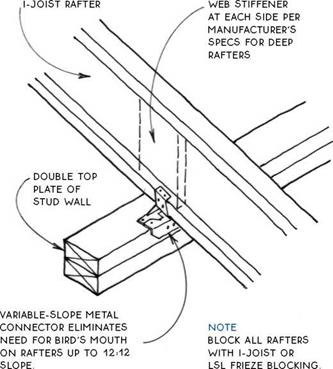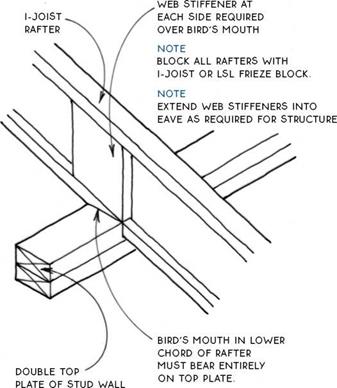 MOST i-JOiST MANUFACTURERS DO NOT SUPPORT THiS DETAiL.
NOTE
BLOCK ALL RAFTERS WiTH i-JOiST OR LSL FRiEZE BLOCK. EXTEND wEB STiFFENERS iNTO EAVE AS REQuIRED FOR
structure.
ROOF SHEATHING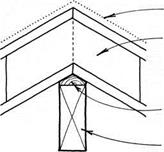 RAFTERS ATTACHED TO EACH OTHER WITH 3A-IN. PLYWOOD GUSSETS ON BOTH SIDES.
DOUBLE-BEVELED WOOD FILLER PLATE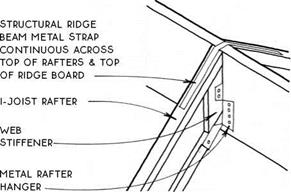 STRUCTURAL RIDGE BEAM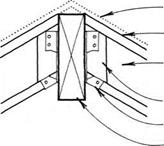 ROOF SHEATHiNG METAL STRAP i-JOiST RAFTER
WEB STiFFENER METAL RAFTER HANGER STRUCTURAL RiDGE BEAM
дЛ I-JOIST RAFTER/STRUCTURAL RIDGE BEAM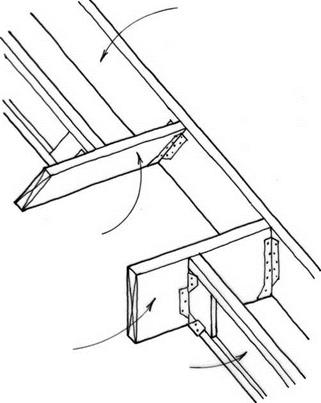 structural rafter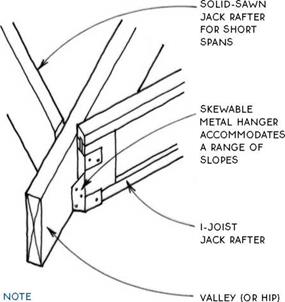 OF LVL, LSL, OR DOUBLE I-JOISTS ® SIDE OF DORMER. SKYLIGHT. OR OTHER ROOF OPENING

WEB STiFFENERS AT BOTH SiDES PER MANUFACTURER'S SPECS –

WEB STIFFENER AT BoTH SiDES pER manufacturer's specs for deep

RAFTERS

NAILING block for SuBFASciA

bird'S-mouth cut at lower

FLANGE oF RAFTER MuST HAVE FuLL BEARING oN

plate.

BiRD'S-MOUTH CUT AT LOWER FLANGE oF RAFTER MuST

have full bearing on plate.

exterior

finish

WALL WITH

trim

VENTED soffit SEE 202B, c & 203A

double top plate of stud wall

note

block all rafters with I-joist or LSL frieze BLocK

double top plate of stud wall

note

dummy rafter laps I-joist RAFTER 11/2 x distance of overhang.

align top of dummy rafter

(VENTED)

frieze block SEE 202A

dummy rafter nailed to web

STiFFENERS

i-joist rafter

double top plate of stud wall

bird'S-mouth cut at lower

FLANGE oF RAFTER MuST HAVE FuLL bearing on plate.

double top plate of stud wall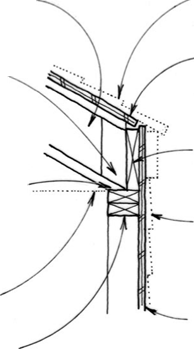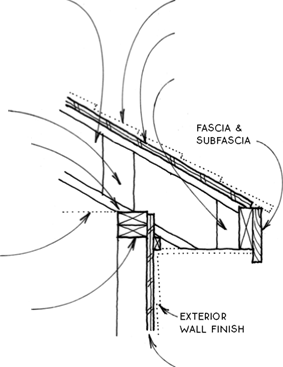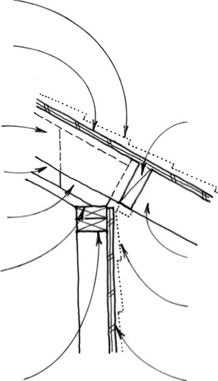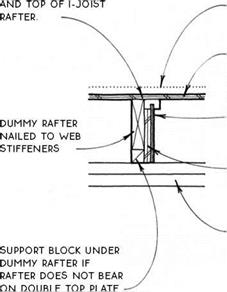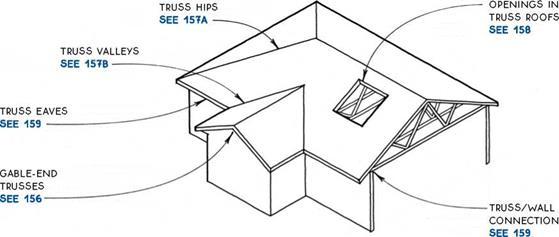 Roof trusses, like floor trusses, are a framework of small members (usually 2x4s) that are connected so that they act like a single large member. They are always engineered by the manufacturer.
Engineered roof trusses can span much greater distances than the stick-framed rafter-and-tie system. Long spans (over 40 ft.) are possible with simple trusses so that large open rooms may be designed with roof loads bearing only on the perimeter walls. Interior walls may simply be partition walls and may be repositioned without compromising the roof structure.
A second advantage of roof trusses is the reduction in roof framing labor. Trusses are typically set in place
by the delivery truck and may be positioned and fas­tened in a fraction of the time it would take to frame with rafters and ties.
One major disadvantage of roof trusses is the dif­ficulty of adapting them to complex roof forms. Roofs with numerous hips, valleys, or dormers are usually less expensive to build if they are framed with rafters.
Another disadvantage of roof trusses is that the webs of the truss occupy space that could be available for storage or as a full-size attic. Furthermore, these webs cannot be cut for any future remodeling purposes.
Five common roof truss types are shown in the drawings below.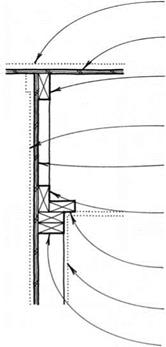 A gable-end truss transfers the load of the roof to the wall on which it bears through 2×4 struts at 24 in. o. c. The standard gable-end truss is the same size as a standard truss. A gable-end truss can be used with a rake overhang of 12 in. or less when the barge rafter is supported by the roof sheathing. It can also be used with flat 2×4 lookouts let into the truss above the struts. A dropped gable-end truss (see 156B) is shorter than a standard truss by the depth of the lookouts.
ROOFiNG ROOF SHEATHiNG
TOP CHORD OR GABLE-END TRUSS
EXTERiOR WALL FiNiSH WALL SHEATHiNG
BOTTOM CHORD OF GABLE-END TRuSS
cEiLiNG NAiLER
iNTERiOR FiNiSH
double top plate

дЛ STANDARD GABLE-END TRUSS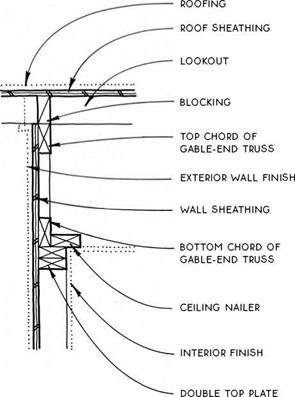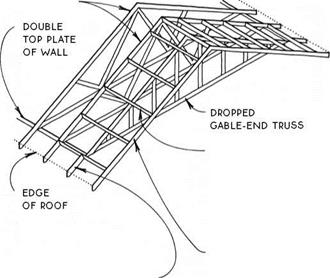 lookouts BEAR ON TOp cHORD OF dropped truss to support rake
OVERHANG.
SEE DETAIL ON RIGHT
There are several ways to frame a hip roof using trusses. None is simple, so many builders elect to frame hips (even on a truss roof) with rafters (see 138).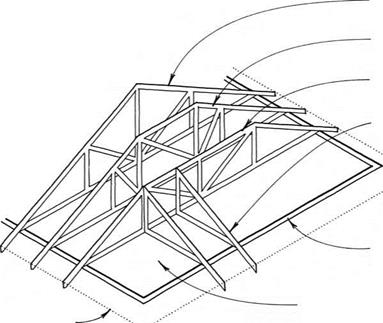 The most common method of framing a hip with trusses is called the step-down system. A series of progressively shallower trusses with flat tops is used to create the end roof pitch of the hip roof. The last of these trusses is the girder truss, which carries the weight of short jack trusses or rafters that complete the roof.