FLAT ROOF EDGE WITH CURB
Single-ply roof—A more recent development in roofing, the single-ply roof is less labor intensive and more elastic than the built-up roof. The single-ply roof is applied as a membrane and glued, weighted with gravel ballast, or mechanically fastened to the roof. Seams are glued with adhesive or heat sealed. Single-ply roofs are usually applied to large areas, but, like the built-up roof, can also cover small areas. Application is technical; warranties start at five years.
Liquid-applied roof—Liquid-applied roofing polymer­izes from chemicals suspended in volatile solvents to form a watertight elastomeric membrane that adheres to the sheathing. Application is usually in several coats, using brush, roller, or spray. Liquid-applied roofs are practical for small areas, where they may be applied by an untrained person without specialized tools; their flexibility allows them to be applied without the cant strips required of built-up roofs (see 178B & C).
NOTE
WALL Framing & SHEATHING NOT SHOWN.
ExTERiOR WALL FINISH LApS METAL FLASHING.
METAL FLASHING WiTH DROp LApS ROOFiNG MATERiAL.
cONTiNuOuS WOODEN
cant strip prevents
RiGHT ANGLES IN ROOFiNG MATERiAL.
ROOFiNG MATERiAL cONTiNuOuS TO ABOVE
cant strip.
ROOF SHEATHING RAFTER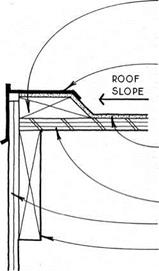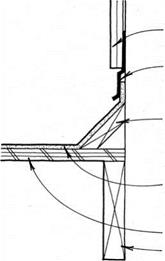 METAL GRAVEL-STOP FLASHiNG SEALED TO ROOFiNG MATERiAL

ROOFiNG MATERiAL CONTiNUOUS TO GRAVEL STOP

ROOF SHEATHiNG

EXTERiOR WALL SHEATHiNG & Finish

ROOF JOIST

NOTE

this detail is generally used when THE ROOF slopes away from THE EDGE TOWARD A cENTRAL DRAIN. SEE 179b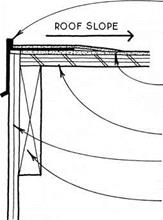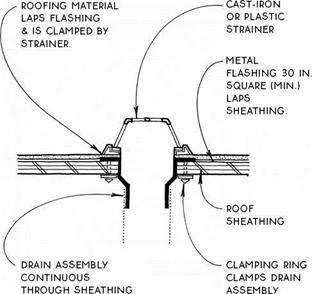 Roll roofing is an inexpensive roofing for shallow – pitch roofs (1-in-12 to 4-in-12). The 36-in. wide by 36-ft. long rolls are made with a fiberglass or organic felt base that is impregnated with asphalt and covered on the surface with mineral granules similar to asphalt shingles. Several colors are available. Roll roofing weighs 55 lb. to 90 lb. per square (100 sq. ft.). The average life expectancy for roll roofing ranges from 10 to 15 years; fiberglass-base roofing is the longest lasting. Fiberglass-base rolls are also more resistant to fire. A disadvantage of all roll roofing is that it can bubble upward when hot because, unlike asphalt shin­gles, it cannot adjust to dimensional change.
Roll roofing must be applied over solid sheathing and does not require underlayment. It is easily nailed in place without using any specialized equipment.
There are two basic types of roll roofing, single cov­erage and double coverage.
Single coverage—Single-coverage roofing rolls are uniformly surfaced with mineral granules and are applied directly to the roof sheathing with only a 2-in.
to 4-in. lap, which is sealed with roofing adhesive. The rolls may be parallel to the eaves or to the rake. The roofing may be applied using the concealed-nail method (see 180B) or the exposed-nail method (not shown). A minimum pitch of 2-in-12 is required for the exposed – nail method. Single coverage is the least expensive and the least durable of the roll-roofing methods.
Double coverage—Double-coverage rolls are half surfaced with mineral granules and half smooth. The smooth part of the roll is called the selvage. The rolls are lapped over each other so that the surfaced por­tion of each roll laps over the smooth portion of the previous course. Each course of roofing is sealed to the previous course with either cold asphalt adhesive or hot asphalt. In this fashion, the roof is covered with a double layer of felt. The double layer of felt weighs 110 lb. to 140 lb. per square. Double-coverage roofing is more expensive than single-coverage roofing, but it makes a more durable roof. Double-coverage roll roofing may be applied with the courses parallel to the eave or to the rake (see 181A).
ROLL ROOFING
Introduction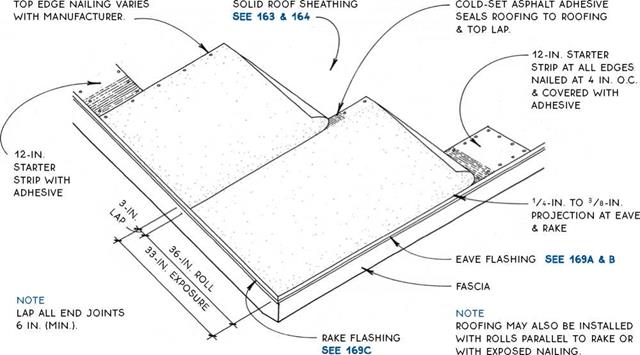 NAiLS iN SELVAGE PORTiON OR ROLL PER

MANUFACTURER'S iNSTRUCTiONS

SOLiD ROOF SHEATHiNG SEE 163

COLD-SET ASpHALT Adhesive between selvage & mineral surface portion OF each

19-iN. selvage starter strip cut FROM TOp OF ROLL & NAILED TO SHEATHiNG

per manufacturer's instructions

lap all

END JOINTS 6 IN. (MIN.).

1A-IN. TO 3/8-IN.

projection AT

EAVE & RAKE

EAVE FLASHING SEE 169A & В

NOTE

ROOFING MAY ALSO BE INSTALLED WITH ROLLS pARALLEL TO RAKE.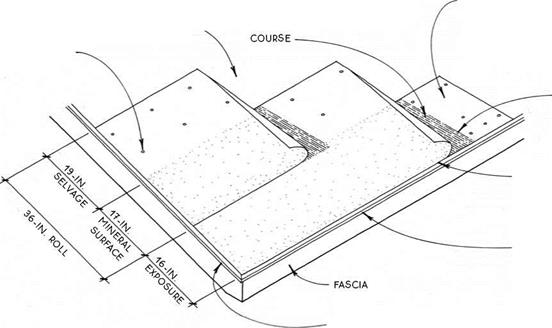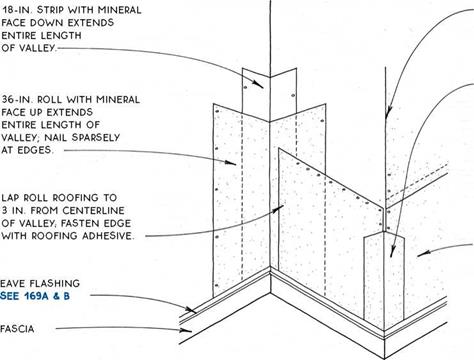 дЛ DOUBLE-COVERAGE ROLL ROOFING
ROLL-ROOFING VALLEY & HIP (OR RIDGE)
Composite asphalt shingles are almost the perfect roofing material. They are inexpensive, waterproof, lightweight, and easily cut and bent. That is why asphalt shingles are so popular nationwide. They are available in a wide range of colors and textures, some with extra thickness to imitate shakes, slate, or other uneven materials. There is also a range of quality, with warran­ties from 15 to 30 years.
Asphalt shingles have a fiberglass or organic-felt base that is impregnated with asphalt and covered on the surface with granulated stone or ceramic material, which gives them color. Shingles made with fiberglass are more durable and more resistant to fire than those of organic felt.
Asphalt shingles must be applied over a solid sheathing covered with 15-lb. felt underlayment. They are easily nailed in place, using no specialized equip­ment. Many roofing contractors, however, use air – driven staples.
drip edge laps underlayment at rake.
rake flashing SEE 169c
THIRD course STARTS with full shingle minus one tab
FIRST course STARTS with full shingle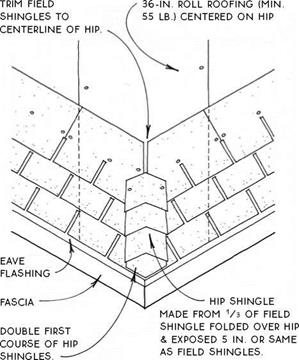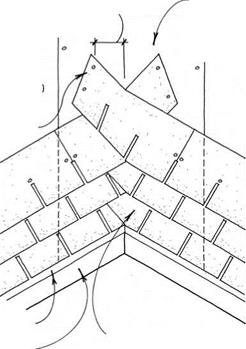 EXTEND SHiNGLES 12 iN. (MiN
beyond centerline of valley.