Bowl for a relaxation
The company Villeroy&Boch presented the newest collection of furniture and ceramics for «My Nature» bathroom the combination of serious outlines of laconic, multipurpose furniture to the smooth, bent forms of the clay sanitary equipment became which main thought. The fine bath became an indisputable find of a novelty, the tremendous design and which ergonomic properties on merits were estimated by society of designers at an exhibition where the brand new My Nature collection was for the first time shown.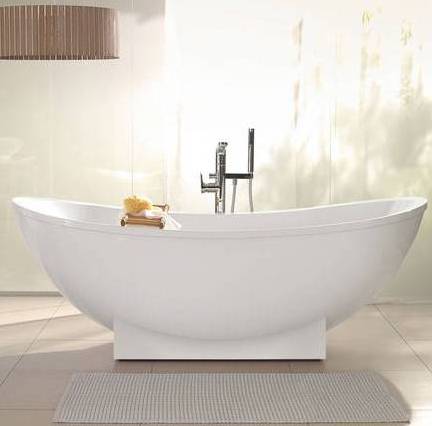 Forms of the latest separately standing bath are identical with the big museum bowl established on small pody, and its bent, smooth outlines in accuracy correspond to the general design of the clay equipment entering into the latest collection. The bath is made of warm, white acryle. The sizes of a product (180х90 cm) allow with pleasure and convenience to lie in it and to be charmed by a full relaxation.
The big, magnificent and comfortable bath from the latest My Nature collection is established on a pedestal which furnish can be executed in 2 options: snow-white and chestnut, in coordination with color of furnish of other products from a collection.
Besides, the company Villeroy&Boch expecting wishes of consumers, offers a complete set of own latest My Nature collection of the hydromassage bathroom executed and issued precisely in the same design, as well as a usual product.