While I was studying to become a certified Bau-Bi – ologist, I was captivated by Bau – Biologie's philoso­phy. After much soul searching, I realized I wanted to incorporate its principles into the world of in­terior design, which had been my business for fif­teen years.
To create hea Ithy homes, I needed to be able to offer my clients healthy furniture, and at the time there was virtually nothing available. So in the fall of 2003 I approached Cisco Pinedo, owner of Cisco Brothers Corporation, a furniture manufacturer in Los Angeles, with the idea of producing a to­tally clean and healthy line of furniture. He readily agreed and we embarked on the lengthy journey of finding materials that would pass our stringent standards, based on the principles of Bau-Biolo – gie. I would do the research and present options for Cisco to make the final choices.
Cisco was already using sustainably harvested alder wood produced specially for the furniture industry, so wood for the frames was not a prob­lem. He has since madethe change to using Forest Stewardship Council (FSC) certified wood for his entire line. All the glues and finishes are toxin-free, which means they do not leave irritating chemical residues in the air after use and they help reduce thetoxicsoupthat results from chemical-laden fin­ishes mixing together in today's tight houses. Only stainless steel screws are used in the construction of the frame and the legs are constructed from re­claimed wood, including teak harvested from res­cued heirloom homes in Myanmar.
Chemical-free pure latex rubber was chosen as the main body of the upholstery for its supe­rior qualities. It is flexible yet stable, lasting longer than petrochemical-based materials. It is absor-
dry-cleaning process further contributes to the chemical load. Natural fabrics can also be problematic on windows because ultraviolet light breaks down the fabric, creating dust and the need for frequent replacement. Home­spun Fabrics and Draperies offers draperies of nontoxic loo percent cotton fabrics.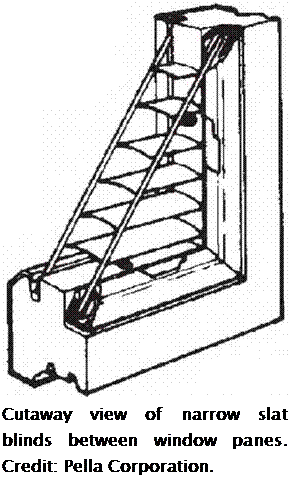 Naturally finished wood shutters, lou­vers, metallic Venetian blinds, or bamboo roll – downs can be attractive solutions that avoid the problems associated with fabric window dressings. Pella Corporation produces a line of windows with retractable shades sand­wiched between double windowpanes. New on the market, Eagle Window and Door Com­pany offers the Eagle System 3 tilt-and-raise blind system. Blinds are sandwiched between insulating glass for dust-free and odorless
bent and resilient, contributing to excellent heat and moisture regulation, and contains no harm­ful chemicals. Surprisingly, many people are not aware that latex is a natural product of the Para rubber tree. Its extraction does no harm to the trees, thus making it a sustainable material. And of course the latex used in our line is harvested from environmentally friendly rainforest trees.
Jute webbing eliminates the need for metal springs and avoids the health problems that may result from electromagnetic fields. Jute cording is used in place of polyester or cotton piping cord. The wool batting used to wrap the latex comes from regions where the soil is continually turned, pesticides and other chemicals are forbidden, and sheep are still herded using guardian dogs. Sheep-dip pesticides are consistently linked to nerve damage in farm workers, and low-dose ex­
posure is believed to aggravate anxiety and de­pression. There is also a concern that antibiotics used on sheep may leach into groundwater and could compromise the effectiveness of antibiotics for humans.
All our fabrics are laundered in chemical-free vegetable-based laundry detergent and are ei­ther certified organic or produced using chemi­cal-free base cloth and vegetable or low – impact dyes. Each furniture piece is available either up­holstered or with washable slipcovers. We recom­mend the use of slipcovers as another way to keep our homes healthy.
After two and a half years of collaboration, Cisco Brothers launched a line of healthy and sus­tainable furniture "for people who live responsibly and who are committed to protecting our planet." This line is the first to combine cutting-edge
window dressing in four blind colors and six shade styles.